Review of the Workabout Pro Gen IV - a Rugged Handheld computer from Zebra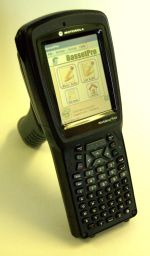 Overview
Fourth Generation version of the Workabout Pro. No changes to the external appearance, size, keyboard and screen unchanged from the Gen III. Check the marking just below the screen to identify the Gen IV. Internally, changes that you would expect from an evolving product. Faster processor. Updated OS. Plus a few surprises, including radio on the mother board, rather than as an add on module
History of the Workabout Pro
SageData have been working with earlier generations of this product since 1991. The great grandfather was the Psion Organiser, first introduced in the UK by PSION ( for Potter Scientific Instruments - the "ON" added to "make it sound right"). This was followed by the Workabout, which ran on an OS related to Symbian. That was changed to Microsoft for the next generation, the Workabout Pro. See our earlier reviews.
In the meantime, Psion bought Teklogix, to become Psion-Teklogix. But then Motorola bought Psion-Teklogix. But then Zebra bought the handheld computer portion of Motorola. So the logo on this product changed several times. But the insides didn't.
Why the Workabout Pro?
The Workabout Pro distinguishes itself by its modular design. It is possible to hang a variety of accessories on the basic chassis, so this can include various barcode readers, RFID readers of all flavours (LF, HF and UHF), mag card swipes, fingerprint readers, radios and so on. Making the basic workabout something of a "Swiss Army Knife" compared to other handheld computers. And it is rugged too. we have deployed many of these various versions and found them to be reliable, and easy to use.
Tech Specs
· Radio - WIFI Embedded surface module
- - 802.11a/b/g/n (no 802.11n in previous)
- - Cinterion PHS8-P GSM/GPRS/EDGE/UMTS/HSPA+ Radio
· Blue-tooth Version 4.0 LE radio (Version 2.0 in previous)
· Lighter in weight than previous generation
· Faster processor Sitara™ AM37x ARM Cortex™-A8 processor (Previous PXA270M @ 624 MHz, 32 bit RISC CPU)
· Battery Packs (Lithium-ion): up to 4680 mAh (Previous was 4400 mAh)
- Super capacitor power backup
· Micro SD slot
· Windows Embedded CE 6.0 (CE 5.0 in previous) or Windows Embedded Hand-Held 6.5

Programming
We found a few snags in porting our applications from Gen III to Gen IV. This may have been because we were working with one of the first released units. Problems not too hard to resolve, and not unusual when moving from one platform to another. Later versions seem much more stable, and our original workarounds may no longer be required.
RFID
Many of our systems use RFID, and the RFID reader for the Gen IV is distinctly different from that on the Gen III. We had to modify this code considerably. The new reader has more power (1000mW vs 500mW) which translates into a better read range, about 40% improvement from our earliest tests.
Conclusion
The Gen IV retains all the virtues of the earlier models, is noticeably faster, and can run applications designed for earlier versions with little or no modification. Strongly recommended.
SageData is based in Ottawa, Ontario, Canada.
We design systems around RFID, Barcodes and Handheld computers.
For further information, contact Doreen Wallace or Keith Jackson.

To reach us by email, click here.
To reach us by phone from Ottawa, dial 613 225 4404
To reach us by phone from outside Ottawa, dial 1-888-838-1067


Thank you for your interest in our products and services.
SDSQAP91 - SDSREF6458