Barcode Hardware, RFID Hardware, Mobile Computers

This page provides information on the hardware we pair with our systems for automatic data collection and processing. For more generic information please visit our Learning Centre for information on handheld computers,   barcodes, and RFID
Below you will find information on handheld computers, barcode scanners, barcode printers, RFID Readers
Handheld Computers
Memor X3 from Datalogic
This is a rugged mobile handheld computer with integrated barcode reader. It is an excellent replacement for the NEO, a product from Psion / Motorola / Zebra which has now been withdrawn. The Memor features the "green spot" feedback system which helps greatly when scanning multiple barcodes, and has features which make it attractive for applications where security is a priority. First response from our clients has been excellent. Contact us for more information.
Motorola TC55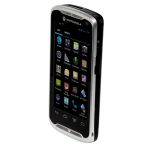 The Motorola's TC55 is the newest addition to our handheld line. Rugged and versatile, the TC55's lower cost point opens up the productivity, accuracy and business insight benefits of SageData's systems to a whole new range of applications.
Your workers need rugged, reliable, remote access to real-time data. While personal smartphones, tablets and laptops may be attractive and easy to use, they do not have the durability or functionality necessary for everyday business use. This pocket-sized, all-touch computer has it all. The TC55 Touch Computer capitalizes on the latest, technological advancements, aesthetic appeal and usability of popular personal devices, but unlike its consumer-grade counterparts, it has integrated data capture capabilities and is built to withstand the wear and tear of industrial environments, so it's less likely to fail in the field. Fewer failures mean less lost data, less downtime, and most importantly, higher productivity and profitability.
- Advanced capacitive touch screen that works virtually anywhere
- Integrated scanner and imager for fast, accurate data capture
- Fortified for the enterprise with Extensions by Motorola Solutions
---
Workabout Pro 4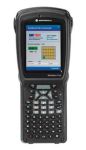 Sometimes applications require a mobile computer that can be adapted to meet specific requirements. With its full range of add-ons the Workabout Pro brings a flexibility to SageData's applications that make it the ideal work horse.
The Workabout Pro is the mobile computer that can continually evolve to meet your ever-changing business needs. Its impressive modularity lets you buy the features you need now, yet easily add practically any feature you can imagine, right in your own facility. Start with Wi-Fi and add WWAN. Swap scan engines to support new types of bar codes. Add support for voice picking applications and just about any type of RFID tag. Many ready-to-use modules are available to meet the highly specialized needs of diverse vertical markets. And since the Workabout brand has been serving businesses for over 20 years, you can choose the well-proven Workabout Pro 4 with confidence.
Key features include:
- Impressive modularity for an extraordinary life cycle and a low TCO
- The flexibility to choose the right model for every job
- Backwards compatibility with accessories
- A high-resolution color 8 MP camera for a world of new applications
---
SB-1 Smart Badge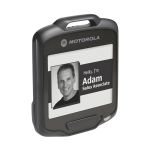 The Smart Badge is a unique platform for our newest applications. Part scanner, part mobile computer, part, communicator, the Smart Badge provides a flexibility that can open a world of new possibilities.
Help every one of your associates better serve customers with the SB1 Smart Badge. A brand-new category of mobile device, the SB1 is worn around the neck, arm, or on a belt. It also enables employees to scan bar codes and answer queries on price or inventory, and with a task management application, workers can access their own task list and supervisors can monitor task status - all in real time. What's the result of a smart badge? More productive employees.
- Durable - built for everyday use
- Built for sharing - no need to assign devices
- Easy touch navigation
---
ET1 Enterprise Tablet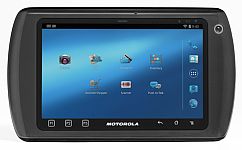 The ET1 tablet enables Sage Data to address applications where the user interface or computing power of smaller devices isn't up to the job. As a true enterprise-class tablet that you can deploy anywhere the ET1 offers everything you need — from security and durability to flexibility and manageability. With WLAN or WWAN connectivity, you can count on the ET1 to deliver all the information your workforce needs to get the job done — whether they are inside the four walls or out in the field.
- Consumer styling with real business durability
- Use anywhere — from retail to field sales and service with high-speed cellular/Wi-Fi wireless connections
- Easily build applications that run on the ET1 — and your other Motorola mobile computers
- Built for multiple users with feature-level control
---
Barcode Scanners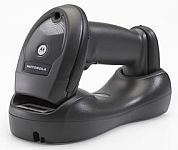 LI 4278 Scanner
Barcode scanning has been a part of our history for over 22 years. Ensuring this key element of any barcode based system, the scanner, exactly meets the requirements of the application has been a key to our success.
The LI4278 takes 1D bar code scanning to the next level, allowing workers to scan faster and farther as they can capture virtually any 1D bar code. Built for all day and everyday use, the LI4278 offers cordless freedom with Bluetooth compatibility. It also offers better encryption for improved security and better overall wireless performance. The LI4278 is backward compatible with its key accessory — the cradle — which works with its cousins, the LS4278 and DS6878. Superior battery power management delivers the largest number of scans per battery charge to support scan intensive applications. You can use it in dusty and wet environments and it can survive a 6 foot/1.8 m drop.
- Captures virtually all 1D bar codes on any surface — including mobile phone displays
- Superior motion and angular tolerance
- Built-in rechargeable battery
- Backward compatible
---
CS 3000 Scanner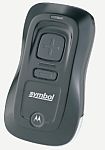 Some barcode applications require a wide distribution of basic scanning ability. The innovative Motorola CS3000 Series enables enterprises to easily implement 1D laser scanning where either mobility or the cost and size of a traditional scanning device is an inhibitor. The tiny device is affordably priced and fits in a pocket or on a lanyard. The CS3000 can be utilized in standalone mode for the batch scanning of bar codes, while the CS3070 offers batch mode as well as real-time bar code data transmission to a host application via a wireless Bluetooth connection to smartphones, laptops and more. The result is a new level of affordability for 1D scanning and the ability to streamline, error-proof and simplify more business processes. Flexible mobile 1D laser scanner Long battery life Small and lightweight 512MB non-volatile memory Superior scanning performance
---
Barcode Printers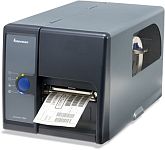 PD 41 A member of the smartest bar-code printer family on the market, the Intermec PD41 is flexible and programmable, enabling customers to optimize their printing operations, streamline deployment, and achieve quick return on investment. Built to meet the needs of mission-critical applications, the rugged PD41 delivers advanced, secure connectivity and the latest network protocols, ensuring peace-of-mind today and a reliable, scalable solution for the long haul. The versatile PD41 Commercial Printer is part of Intermec's complete line of smart, strong and secure industrial printers. Strong metal construction for demanding, medium-duty applications Smart Printing capabilities support stand-alone printer applications, eliminating PC expense and complexity All-in-one, user-selectable printer languages Fingerprint/Direct Protocol (DP), IPL, ZSim, DSim and in every printer Secure wireless connectivity: CCX and WiFi certified with WPA2 Interchangeable print head provides choice of 203 or 300 dpi print resolution
---
PC43t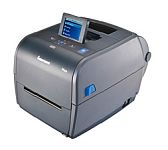 The PC43t is Sage Data's "go to"" printer for small, portable applications. Available in 4" direct thermal (PC43d) or 4" thermal transfer (PC43t), the Intermec PC43d / PC43t is designed to set a new standard in user friendliness and flexibility. PC43d / PC43t features a multi-language LCD or Icon-graphics user interface for maximum ease of use. User-installable connectivity options and accessories ensure that PC43d / PC43t will fit your business needs both today and tomorrow. Its low cost and fast operation make the PC43d / PC43t the smart choice for light-duty labeling applications where users need a reliable, easy-to-use printing solution. 10-language LCD or Icon-graphics user interface maximizes uptime One-handed media loading for trouble-free use Half-inch or one-inch ribbon core maximizes time between roll changes (PC43t) Fastest throughput in its class at 8 ips for a productivity advantage Quick configuration with USB flash drive
---
Zebra GK420t

Print wider labels and more a compact desktop label printer that fit your needs. This versatile direct thermal label printer is ideal for a variety of applications. Print speed: up to 5" (127 mm) per second Print method: direct thermal/thermal transfer EPL and ZPL programming languages standard OpenACCESS design for easy media loading Quick and easy ribbon loading system Dual-wall reinforced plastic construction 32 bit RISC processor XML-enabled printing
---
RFID Readers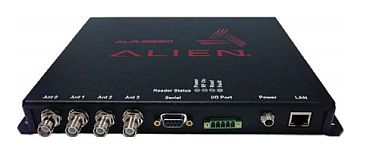 Alien ALR-9680 4 port RFID reader In RFID applications, the ability to accurately and repeatedly read tags is key to a successful system design. Sage Data uses the Alien reader as the basis for its main fixed reader installations. The Alien ALR-9680 is a commercial-grade UHF RFID reader that provides enterprise grade 4-port ?flexibility and Alien's industry leading ease-of-use and reader "intelligence" Feature-rich Alien Reader Protocol 4 mono-static reader ports OPE eliminates cost of AC power drop EPIC Gene 2 dense reader inter operable Slim form-factor for installation in height-restricted places Manageable and upgrade able
---
Irwin Speedway Array RFID Reader System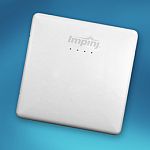 Speedway Array is a game-changing RFID reader system - the first product designed to meet the requirements for wide-area monitoring applications while maintaining backwards compatibility with portal applications. It brings proven tag direction capability to the market in a package that is both low cost and easy to deploy. Beam-forming 2-D array radiates a linear beam pattern in vertical and horizontal paths to read tags in any orientation 40 Ft diameter read field coverage with full FCC power at 15 Ft height 52 antenna beams enable assignment of locations or zones Robust tag direction capability which supports real world movement patterns Low profile design measuring just 18 x 18 x 2.5 in., fits into standard ceiling tile grid and blends into any decor. Easy to use and maintain with IEEE 803.2af PoE, tilt sensor to detect when out of alignment, hysteresis feedback to alert when antenna may be blocked, and customizable beacon. Easy programming using LLRP and Impinj extensions
---
DS 9808-R Imager with RFID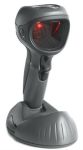 Sage Data has built its business on success on designing and implementing systems that exactly meet the requirements of the application. As technology changes we have always moved to leverage the latest technology to ensure our clients derive the maximum increase in productivity and data collection accuracy. The DS9808-R is a ground-breaking POS device that represents two firsts. The DS9808-R is not only the first combination 1D/2D bar code scanner and RFID reader, it also represents a new RFID product category - the first combination handheld/hands-free UHF RFID reader. In addition to UHF RFID tags, the DS9808-R offers the very latest in imaging technology, delivering record swipe speeds for 1D and 2D bar codes, as well as the ability to capture images and signatures. Innovative Hybrid Design Swipe speed programmable up to 100 inches/254 cm per second Multiple on-board interfaces; universal cable compatible Motorola MAX Data Capture
---
AP621 Access Point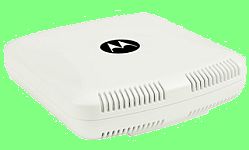 As system complexity and reach expand, Sage Data has expanded our offerings to keep pace, adding new products that augment our base offerings. The AP 621 is a thin (dependent) multipurpose access point designed to lower the cost of deploying and operating a secure, reliable 802.11n wireless LAN (WLAN) in branch offices or headquarters facilities. The access point features a MIMO radio, superior receive and transmit sensitivity, and a GigE WAN uplink port. The AP 621 is easily managed remotely by a Motorola RFS 7000 or other wireless controller that discovers access points on the network and automatically downloads all configuration parameters and firmware, greatly reducing installation, maintenance and troubleshooting costs. The embedded WiNG 5 distributed intelligence ensures that traffic is locally forwarded along the most efficient paths without sacrificing quality of service and security implemented at the access point itself. Automatic channel and power optimization Gap-free security Full 802.11n performance with standard 802.3af Multiband operation Load balancing, pre-emptive roaming and rate scaling
See also, index for reviews of Handheld Computers, Barcode and RFID hardware

If you found this useful, you might also want to review:
- an introduction to barcode technology

- an introduction to RFID

- handheld computers

SageData is based in Ottawa, Ontario, Canada.

We design, supply and support systems built around RFID, Barcodes and Handheld computers.

For further information, or for advice and assistance with your application, contact Doreen Wallace

Click here to reach SageData by email.

To reach us by phone:
from outside Ottawa, dial 1-888-838-1067
from Ottawa, dial 613 225 4404

Thank you for your interest in our products and services.


SDSQAP91 - SDSREF6276