RFID and Barcode Designers Notebook

Introduction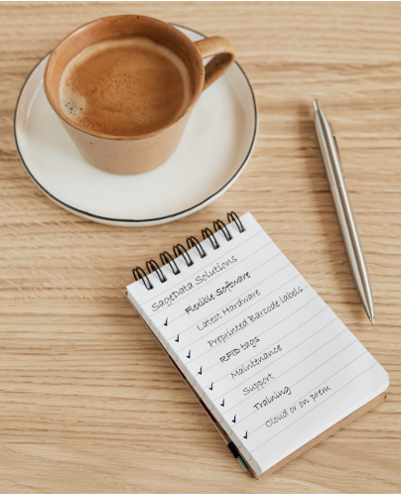 In the normal course of our business we are approached by a wide variety of organisations for an equally wide variety of applications. Some of these enquiries turn into full fledged systems. Others never move beyond the experimental stage, held back by lack of funds or lack of resources. But many of these projects have wider application.

As an example, we recently spent several months developing and refining a system for a major Provincial Client. When the concepts had been proven, and it was time to move ahead, the project was postponed for a year, with funds re-allocated elsewhere. Less than a week later, a client from Western Canada called with a "strange" request, that just happened to coincide with the postponed project. We think this client was impressed with the speed at which we were able to "customise" and deliver a project to his exact needs. In fact it was perhaps 10% expertise and 90% coincidence.
So we have included a list of our past design activities. Some of these have been fully implemented, others were held at the testing stage, or got no further than design. If any of these system may be of use to your organisation, just let us know. And if you have an interesting design challenge, we would be interested to hear of that too.
A brief note about the following examples. They are all based on fact, but we have changed a few of the details to protect the privacy of our clients.
For more information, just click on the relevant title. Enjoy.
Managing Fill
Before construction begins it is sometimes necessary to level the land, and this may requires large quantities of fill - many truckloads. But all fill is not created equal. Clean fill is expensive to acquire. Contaminated fill is expensive to get rid of, but creates a serious and expensive problem if it is mixed in with the clean. So how to manage 100 truckloads of fill, to make sure that only the good stuff gets to the site?
more
...
In this case, we examine the difficulty of tracking some millions of dollars worth of construction equipment spread over several sites and five depots. A simple hands-off system provides accurate information on the location of each item - with no monthly bills...
BassetPro has been used for many years for a wide range of library applications including technical and legal libraries. As RFID technology has improved, readers have become more reliable and less expensive, and RFID tags have improved in read range, and reduced in price. This note provides more information on how RFID or Barcode Technologies can help you manage your library more efficiently.

SageData is based in Ottawa, Ontario, Canada.

We design, supply and support systems built around RFID, Barcodes and Handheld computers.

For further information, or for advice and assistance with your application, contact Doreen Garvin or Trinity Joseph.

Click here to reach SageData by email.

To reach us by phone:
from outside Ottawa, dial 1-888-838-1067
from Ottawa, dial 613-225-4404